2-Point Non-Retractable 90" Lap Belt w/Chrome Lift Latch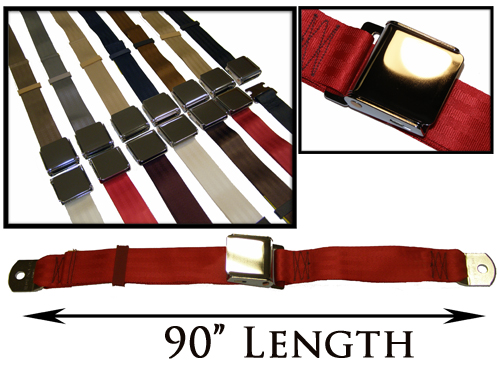 Place Order Here
| | | |
| --- | --- | --- |
| Price: $29.95 | Code: 1800-90 | Quantity in Basket: None |
Additional Information
* SPECIAL ORDERS REQUIRE 4 WEEKS TO MANUFACTURE.
NO CHANGES OR CANCELLATIONS ALLOWED ONCE THE ORDER HAS BEEN PLACED.
Black, Dark Blue(Navy), Grey, Maroon, Red and Tan seat belts will have thread and
plastic componets which match the color of the webbing.
ALL SPECIAL ORDER SEATBELTS WILL BE SEWN WITH BLACK THREAD AND ALL THE PLASTIC COMPONETS WILL BE BLACK.

Specifications
• One seat belt will fit one passenger.
• All these seat belts will work for left or right seats.
• Installation hardware is sold separately.
• Installation instructions are included.

These seat belts are universal in fit so they will work for either the driver seat, middle seat or passenger seat (front or rear). These seatbelts have a chrome lift release with an approximate length of 43" on the fixed end and 47" on the adjustable end.


Color Chart
Place your mouse over a swatch for a close up view.

#1000
Black

#4004
Dark Blue

#4002
Blue

#6005
Gray

#4005
Powder Blue

#4006 Cobalt Blue

#4000
Electric Blue

#4009
Turquoise

#2010
Purple

#2009
Red Wine

#2008
Maroon

#2007
Red

#2006
Flame Red

#7001
Orange

#3004
Brown

#3005
Dark Brown

#5006
Dark Green

#5002
Military Green

#5004
Green

#9000
White

#8000
Ivory

#3009
Desert Tan

#3000
Tan

#3008
Medium Beige